Better English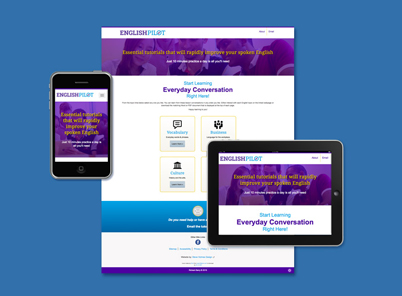 A local English tutor who had accumulated many lesson resources required a website that he could populate based on the Wordpress content management system. With a new domain name of English Pilot it was decided to divide all the language lessons into 4 main learning zones which would each house up to 100 individual tutorials in web, Word doc and pdf formats. The site needed minimal page upload time to suite learners accessing from anywhere in the world on their mobiles.
The outcome
Using a reduced colour palette, a single photo and a few strong button icons Steve Holmes Design created a clean, crisp looking and user-friendly site where the navigation is intuitive and every lesson accessible within 2 clicks from the homepage. With easy-to-use documentation on how to populate the site using Wordpress the client is now empowered to apply all their content in their own time. The site is fully responsive for all devices.
---
It's a walk out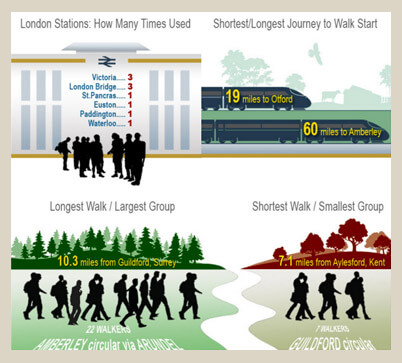 A London based walking group requested Steve Holmes Design to visually display in an appealing manner various stats from their monthly Saturday walks throughout 2015. This was to accompany a small photo gallery of group photos from each month.
The outcome
The resulting graphics portray stats centered around the train journeys to each route start, the lengths of walks, size of walking groups and South East county destinations. Feedback from the regular walkers has been very positive and this looks like becoming a regular feature for their annual news publication.